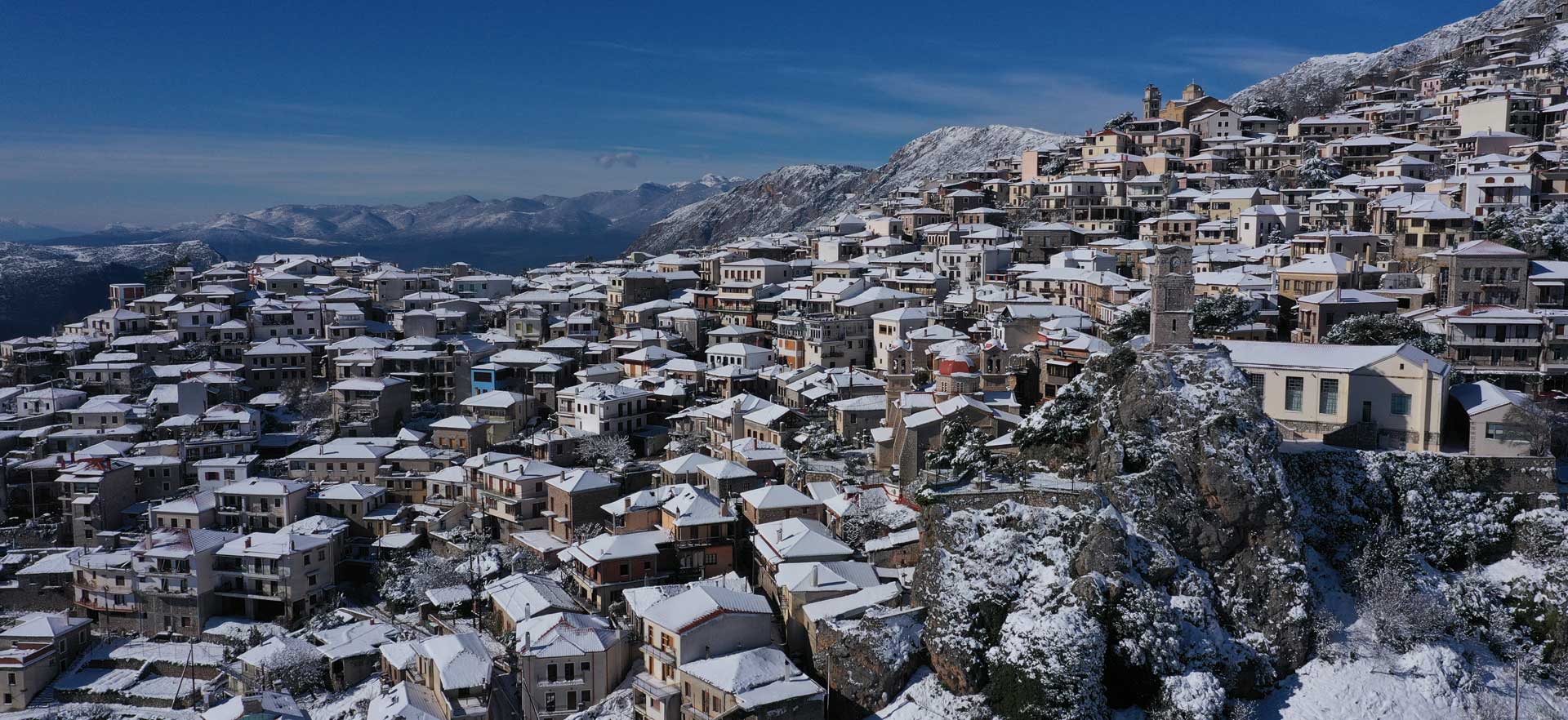 The traditional town of Arachova is located just 10km from Delphi. A visit in Arachova, reveals the charming combining of the old with the new, at the holy grounds of the mountain of Apollo.
Arachova is undoubtedly the queen of Parnassos. It is built in an amphitheatric way and it spreads magnificently to the south hillsides of Parnassus, at an altitude of 960 meters, ending up at a cliff where Pleistos river flows.
Arachova is full of life. The wild beauty combined with its unaltered traditional character, its cosmopolitan face and the numerous activities the majestic mount Parnassos offers, place it rightfully at the top of the Greek winter tourism and at the list with the top destinations for the other seasons too.
What to do - Activities in Arachova*
The main activity for the fans of snow is skiing at one of the ski resorts in Parnassos. Hiking, climbing, mountain cycling at the exquisite trails of the national park of Parnassos will offer you unique experiences in nature and a breath of life.
What to see - Sights in Arachova*
Gastronomy
At Arachova's taverns and restaurants you can taste local meats such as the famous mutton kontosouvli and kokoretsi, traditional homemade pies, traditional tidbits and sarmas (cabbage rolls) from the ovine and caprine animals of Parnassos, homemade taglierini and trahanas. And of course, you will find everywhere the famous cheese Arachova's formaela, in various forms. Formaela has been registered in the European Union as a protected designation of origin.
Accompany your meal with the popular brousko wine from Arachova and complete your meal by enjoying local Greek yogurt with honey or traditional desserts from Arachova and spoon sweets.
Nightlife
Arachova is famous for its nightlife especially in winter. Dozens of choices for any time of the day and night. Check the best cafe-bars in Arachova and Delphi.
Accommodation
There are many options for accommodation in Arachova, for any taste and budget. Traditional guest houses, apartments, chalets and luxurious hotels will provide you with a cozy and warm stay.
Don't forget
Before you leave, don't forget to buy the famous Arachova wefts, the local traditional Arachova's formaela cheese, the homemade taglierini, as well as spoon sweets, diples, karydato (sweet bites with walnut) etc.
How to get there
Arachova is 167 km. away from Athens, with the driving time to be approximately 1:30 hours.
It is 375 km. away from Thessaloniki and the journey will last approximately 4 hours.
*See below the boxes with the sights and the activities.
Access & distances
Public and private Parking
Accommodation in Arachova
ATM: Alpha, National, Piraeus, Eurobank
25km from Ski Center Parnassus