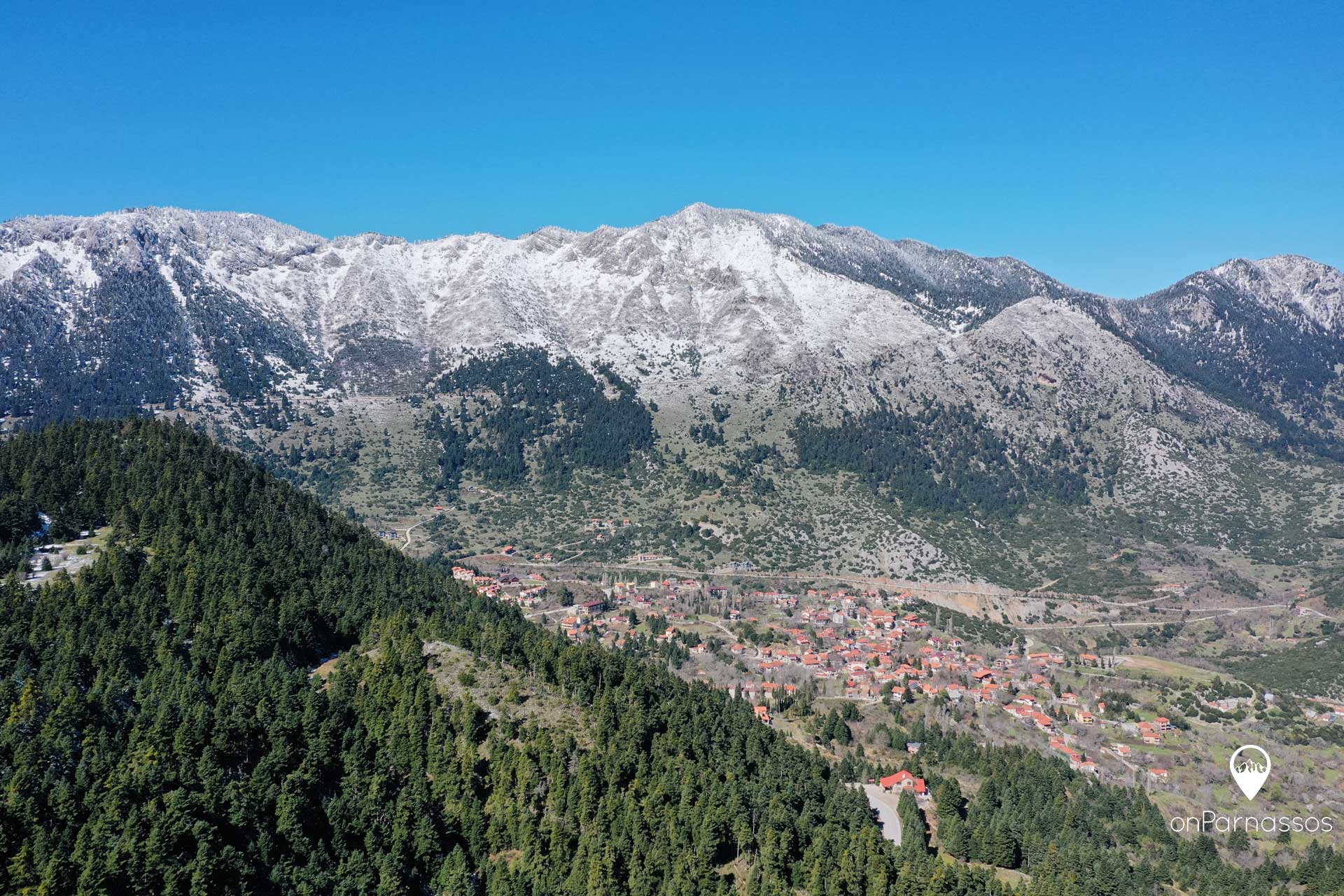 At an altitude of 850 up to 940 meters, on seven hills in the arms of Parnassos, there is a land that looks like it has been taken out of a fairytale. Ano Agoriani or Eptalofos, which is its new name, is a true gem on the mountain of Apollo. Literally drown in firs and plane trees it instantly gains anyone who "slips through the net" of the popular Arachova.
Activities - What to do
Agoriani is a place for all seasons, as it offers to the visitor all the joys of the mountain, with different "colors and aromas" for each and every season.
At the village where according to mythology, the Fairies danced for the God Apollo, you can enjoy the landscape by hiking, climbing, mountain biking and of course skiing and snowboard at Parnassos Ski Center which is only 18 km. away from Agoriani.
And the must must do in Eptalofos? Continue reading...
Have you ever wondered how do they make the dough sheets for pies in the villages? In Eptalofos you can get initiated into the secrets of traditional cooking of Central Greece. You can take part in the collecting of the produce and the making of your own food. How? Read more information here.
The snow queen
Agoriani as in…Austria. They say that if haven't seen Agoriani in snow you haven't seen anything. Snowfalls in Agoriani are really common during winter, which combined with the forest of firs, compose a unique fairytale land. Literally. So, it was quite right that it has gained the reputation of the snow queen of Parnassus… and not only.
What to see
Of course the waterfall is a must visit. The Folklore Museum in Eptalofos worths a visit and is located at the center of the settlement, very close to the central square of the village. Visiting the museum will give the visitor the opportunity to get acquainted with the culture and customs of the area as well as the lifestyle of the previous years.
Agia Triada, Agia Paraskevi, Vromovrisi, Pyrgaki, Vasiliki spring with the water that helps with the digestion, are the ideal point for hiking or cycling, as well as for romantic strolls in the nature that offers lavishly its beauty and its clear air. If you are lucky enough, you will see squirrels, wild boars, blackbirds, partridges, hawks and eagles that live in the area.
Gastronomy
Agoriani is famous for its traditional products, such as the beans that have earned a silver medal at Thessaloniki's International Fair, tomatoes, exquisite honey from Parnassos, tea from Parnassos, cherries, nuts, firiki apples, as well as its famous dairy products.
How to get there (see map)
Agoriani is 188 km. away from Athens and 22 km. away from Arachova. During winter, even when the snow is heavy, the roads are always open, yet you should always carry snow chains with you when driving on highland roads.
Access & distances
Accommodation in Eptalofos
20km from Ski Center Parnassus