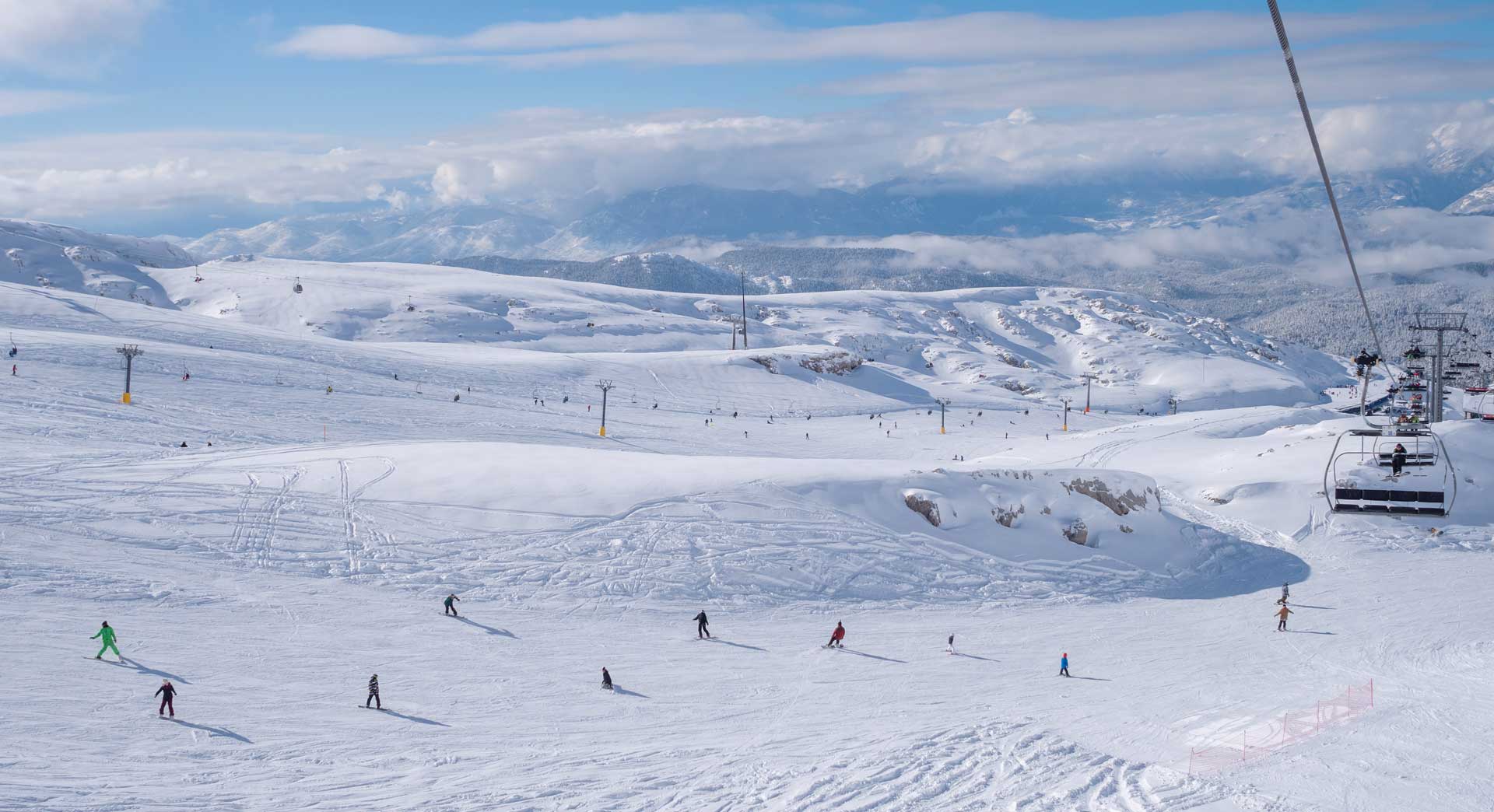 Parnassos is famous for skiing and snowboard. With the completion of the upgrade of the lifts, as well as the addition of the new sliding lift "Sahara", Parnassos Ski Center now offers a competitive ski experience in Greece and the Balkans.
Pistes
There are two skiing areas at Parnassos Ski Center, Kellaria and Fterolakas, which have in total:
21 pistes and 7 ski routes
5 connective trails
4 mini pistes for beginners with baby lifts
with 34 km total length of the pistes. The descents begin at 2.260 m. and they reach down to 1.640 m. altitude, while their length is between 300 m. and 4 km. There are many routes off the pistes for free ride ski, and first of all the popular Fterolaka's valleys. Also, there are 2 Snow Fun parks at Kellaria and Fterolaka. Four of the pistes, No6 Iniochos, No8 Iraklis, No9 Odysseas and No2 Vaccos, are certified by the International Ski Federation (F.I.S Homologation) for international ski competitions.
Skiing with sea view
From many parts of the ski resort you can see the Gulf of Corinth as well as the Euboean Gulf. The possibility of skiing while having the Greek seas as a view skyrockets the skiing experience.
For more information as well as a map for the pistes and the lifts, go to Parnassos Ski Center.
Besides skiing within the limits of the Ski Resort, Parnassos is also perfect for ski mountaineering. The famous routes such as climbing down the gorge of Velitsa, climbing up Tsarkos and Liakoura etc, combined with the ski resorts in Parnassos, create a complete and special skiing package for the wider area of the South Europe.
Central photo: Kostas Kaltsas
Unfortunately, there are no selections mathing your criteria. Please try using different criteria.
Recently viewed
On Parnassos Awards