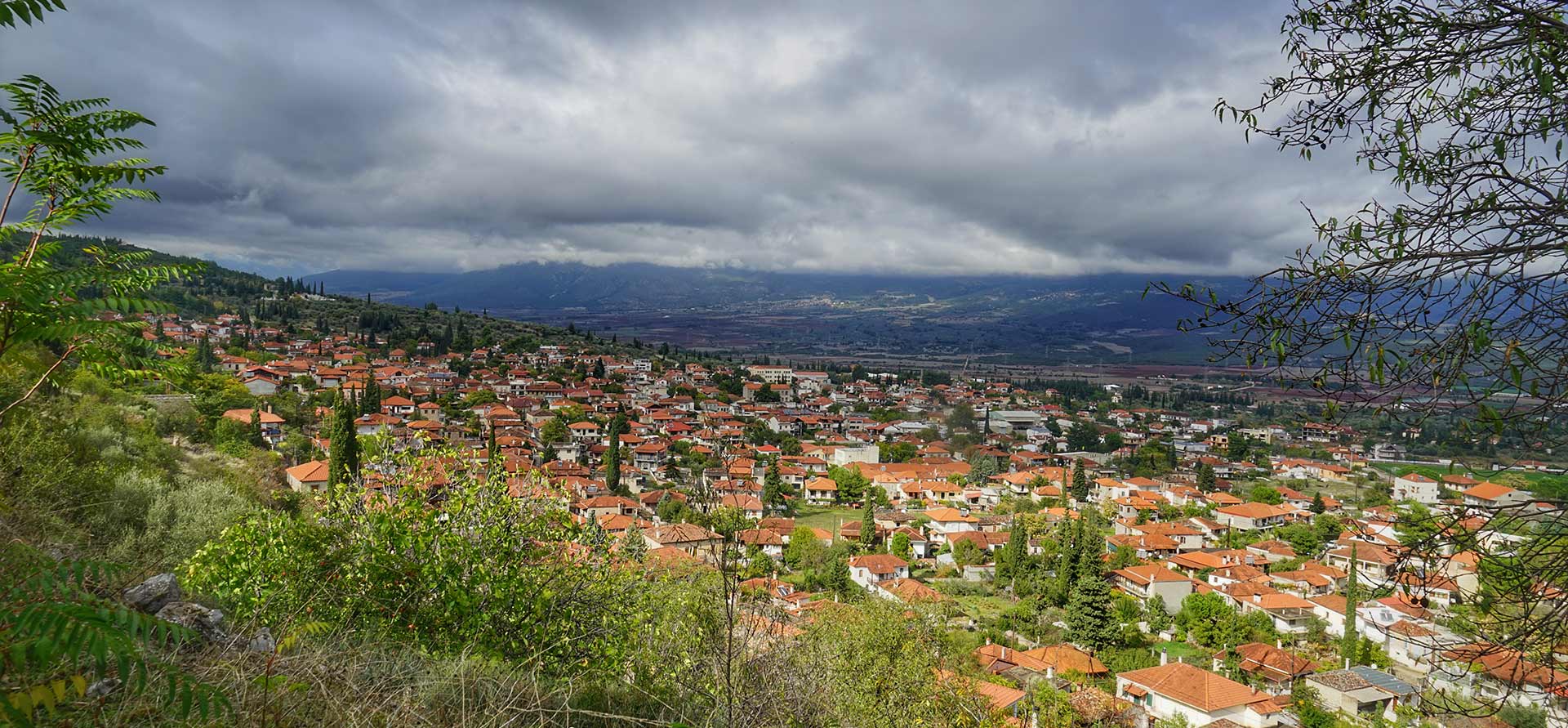 The picturesque Amfiklia is located within the shadows of Parnassus and it has managed to attract the fans of the mountain, due to its natural beauty, the very small distance from Parnassos Ski Center, its neoclassical mansions and its paved alleys.
What to see
The two paved squares, the central and the upper square in Amfiklia.
Bread Museum where you will learn the history of making bread from ancient years up until today as well as the Museum of Professions at the central square of Amfiklia.
The impressive chapel of Agia Jerousalim, built inside a cave since the 11th century.
The Dadiou Monastery 6 km. from Amfiklia, which was built in the 18th century.
The Ancient Acropolis of Amfiklia that will reward you with an amazing view.
In case you find yourself in Amfiklia during Easter, it will be an unforgettable experience with its traditions from Roumeli in their entire splendor.  Many lambs are skewered in line in every neighborhood and there is absolutely no way that you will leave without eating some tidbits, drinking some wine and tapping eggs.
As regards to the Masquerade Carnival the experience is unique thanks to the traditional custom "heya" (fire pits), which originates from the ancient times, while every year the show is stolen by the kontosouvli with length of 120 m. which is skewered at the central square. Fires are started in every neighborhood and they all eat, drink and have fun together.
You should also go for a walk at Amphicleia's cobbled streets and admire its exceptionally preserved stone water fountains.
Don't forget
When leaving, don't forget to buy macaroons, kourabiedes (butter, almond cookies), spoon sweets, local pasta and dairy products.
Where to stay
Hotels and guest houses in Amfiklia for every taste that will make your stay very cozy.
Where to eat
There are many suggestions for what to eat in Amfiklia​. Small taverns, restaurants, grills and taverns will serve you traditional plates, local meats and good wine or tsipouro. There are also many café and après-ski bars for every taste and hour of the day.
How to get there
Amfiklia is 165 km. away from Athens and you can be there in 2 hours. Parnassos Ski Center and more particularly Fterolakas position is just 17 km. away from Amfiklia.
Access & distances
Accommodation in Amfiklia
22km from Ski Center Parnassus
Health Center in Amfiklia